Note new time for Tuesday sessions.
---
Introducing old melodies and traditional stories to a new generation of children, 'Oldtime Nursery' is an interactive drop-in music session for babies and toddlers and older children accompanied by their parents or carers.
Songs accompanied by banjo, guitar, accordion, piano, violin, toy piano, melodica, percussion, drums, stylophone and lapsteel guitar.
Held at Heath Street Baptist Church, Heath Street, Hampstead, London, NW3 1DN. See map and get directions.
Sessions are held on Tuesdays and Thursdays - see below.
Sign up to the Oldtime Nursery mailing list here.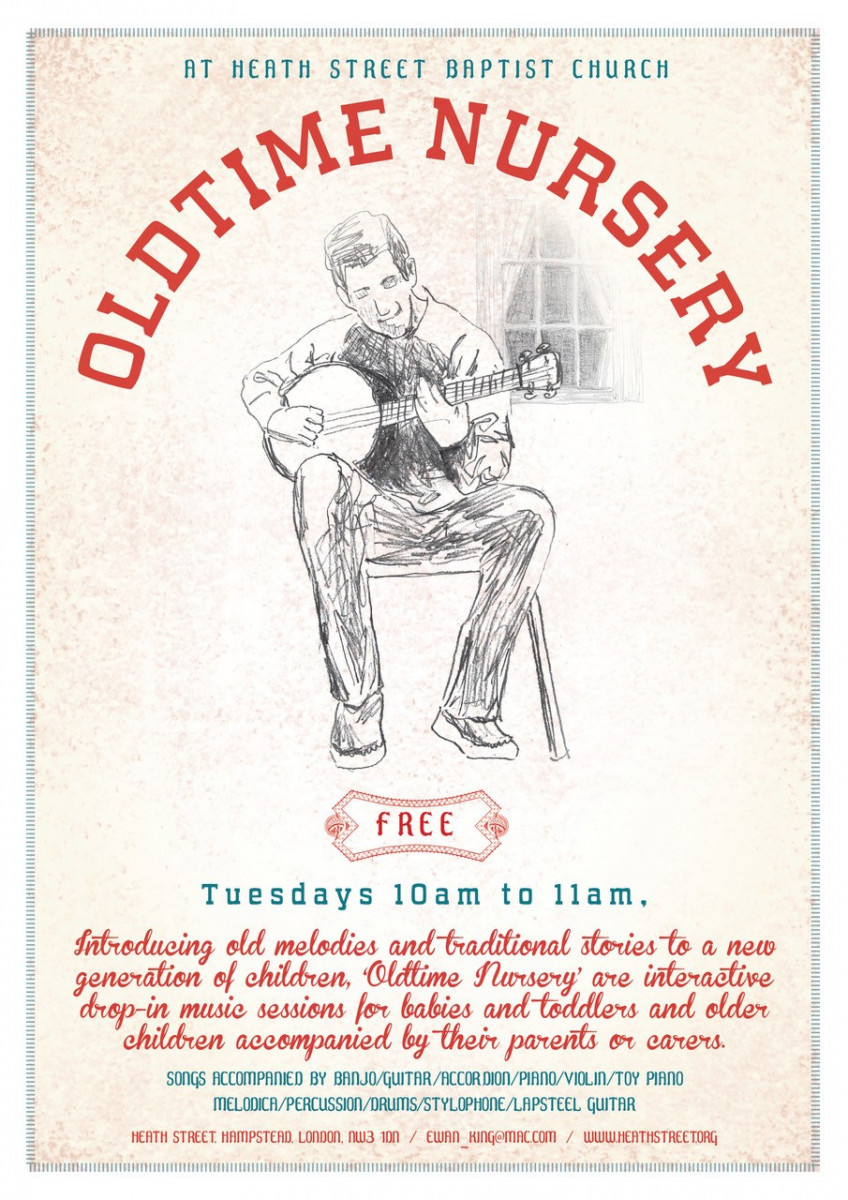 When?
09:30 - 10:30 am every Tuesday.
10:30 - 11:30 am every Thursday.
Cost?
Free!
Contact?
Ewan King on ewan_king@mac.com or (020) 7431 0511 or
John Baker on johnhenry@heathstreet.org or 07840 456593.
---
On 17 November 2022 Ewan King (and Group) were presented with the 'Parent Infant Advancement Award' by the Parent Infant Centre for their work with Oldtime Nursery, in recognition and appreciation for promoting parent infant well-being through music to parents and babies. See here for an article from the church newsletter about the occasion.
---
"My twin girls have been going along for almost a year (they're 23 months now) and they love it. They dance together all the way through and sing the songs when they get home. It's refreshing to experience something more creative than the run-of-the-mill rhyme times! It's their favourite part of the week." — Rachel

"I have been taking my eleven month old daughter to Old Time Nursery since whe was ten weeks old. She and I love it: it's definitely one of the highlights of our week, and an absolute gem. Don't miss this opportunity to experience talented musicians playing songs which you will find yourself singing for the rest of the week!" — Julie
---